The medium-voltage switchgears are essential in the electrical network, from the energy delivery (HV-MV) up to its distribution. Air-insulated (AIS) medium-voltage switchgears, suggested for indoor installations, are used for several applications, such as:
Infrastructure (Hospitals, residential, industrial plants, data centers)
Solar plants
Wind plants
National distribution grid
Transports (Airports, Railway, Metro)
Seaports and ship
Oil & gas plants
Mines
ATR is air-insulated medium-voltage switchgear developed by C.R. Technology Systems and includes the following key strengths:
Flexibility
Modularity
Safety (for the personnel)
Easy to install
Reliabillity
Customization
Extendable with a high range of typical panels
Thanks to its strong technical features (36kV of rated voltage-2500A of busbar current-25kA of short-circuit current, degree of protection up to IP54), ATR is suitable for severe environmental conditions (>1000m of altitude, +55°C temperature, protection against corrosive gases) assuring a high level of continuity service.
The broad ATR range includes switch-disconnector units, switch-disconnector and fuses units, switch-disconnector and circuit-breaker units, metering units, cable riser units and busbar riser units.
Depending on every functional ATR unit, each one can be equipped with 3 position switch-disconnector, Vacuum or SF6 circuit-breaker, traditional current transformers, ring current transformers, voltage transformers, fuses, surge arrestors, protection relays, network analyzer, multimeter, tariff meter, lamps, push buttons, selector switches and all necessary to the proper work, and based to the project/request, a huge level of customization.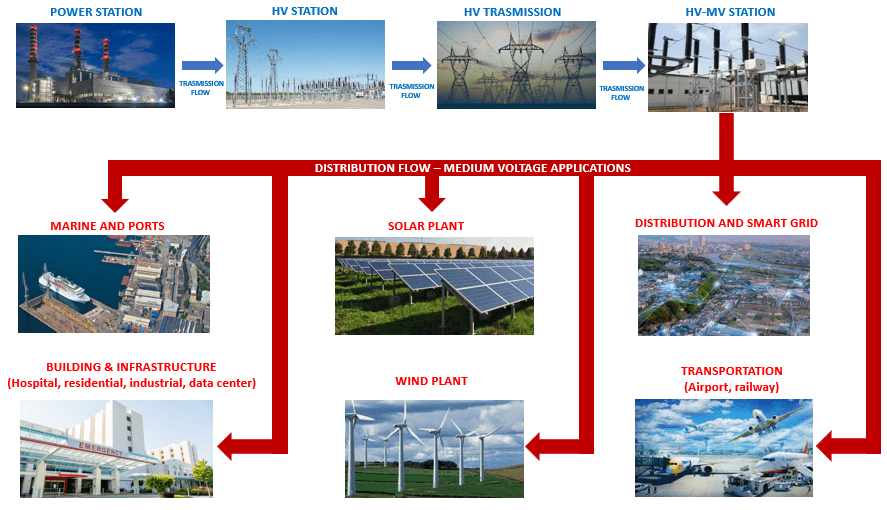 OUR KEY PROJECTS
STC-Box for Tesla project – West Sussex (United Kingdom)
ATR 24kV for electrical substation 150/20KV – Macchiareddu (Italy)
Mobile substation 110/20kV 40MVA equipped with ATR switchgear – Fushë-Krujë (Albania)